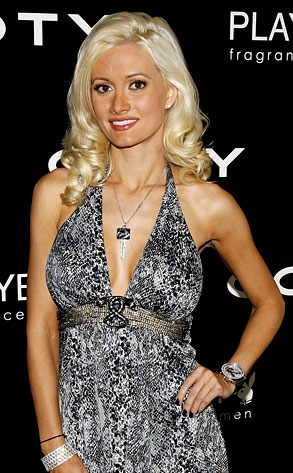 Holly Madison caused a few jaws to drop last week when she revealed that the producers of her Las Vegas burlesque "Peep Show" had ordered her to shed weight from her already super-svelte frame.
"I always thought I looked fine. It was a shock when they told me to lose weight. I've lost a few pounds," Madison, who appears topless in the show, told Radar Online, adding that she wasn't sure if she wanted to push herself any harder and oblige in popping the pounds.
"This is definitely the first time I've been confronted with a weight issue," Madison said. "Because I'm so busy, it's a challenge to lose the weight, but I'm trying hard!"
And while she told us after leaving her life at Hugh Hefner's famed mansion a couple of years ago that she was "over the nudity thing" and didn't anticipate she would bare her body for any more spreads, it seems her fellow "Girl Next Door" Kendra Wilkinson's recent Playboy cover may have inspired a change-of-heart.
"I wouldn't mind doing Playboy again," Madison continued. "But only if I had creative control."
Speaking of creative control, the starlet is getting ready to premiere season two of her hit E! reality series "Holly's World," in which she is also credited as co-producer.
"This season is really dramatic and holds a lot of character development for everyone on the show," she hinted. "Troublemakers come to town, so there's a lot of conflict."
The glamour model also controversially hit the headlines last week when she revealed her disappointment that former flame Hefner was engaged to 24-year-old Crystal Harris, as she felt "he could do better."