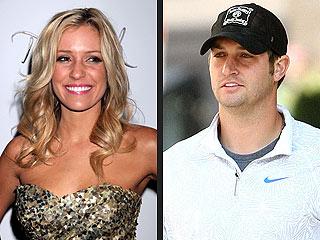 Kristin Cavallari may be spending time in the Windy City, but her relationship with Chicago Bears quarterback Jay Cutler is far from gusty.
"I'm in love," she told PEOPLE Saturday night at Las Vegas's The Bank Nightclub while celebrating her 24th birthday.
Sadly, the object of her affection wasn't by her side. He has an excuse though – his team is in the NFL playoffs and played (and won) Sunday against the Seattle Seahawks.
"I want to be there," she said. "I'm bummed that I'm not there and he's not here."
Cutler, however, was there in spirit, and sent a large bouquet of pink flowers to her VIP table at the nightclub.
"Things are really good," Cavallari continued. "I'm just enjoying my personal life and taking a little time away from the public eye, which is why Chicago is great for me. My mom and that whole side of the family is there. And Jay is there. It's nice to be able to hang out with my mom, and, you know, I'm in love and it's been great."