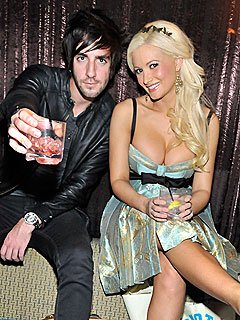 Holly Madison
's boyfriend's band is called "All Time Low," but the reality star is on an all-time high, thanks to her man.
"He's a really down to earth guy," the Holly's World star told PEOPLE in Las Vegas at the opening of Recycled Percussion, fresh off a trip to Mexico with
Jack Barakat
, her boyfriend of nine months, who is the guitarist for the Baltimore-based band.
The duo plan on celebrating Valentine's weekend together at Tryst nightclub in Sin City. The low-key couple has come a long way since first meeting on Twitter and publicly debuting their romance at her 31st birthday in December.
"I feel like he's really real and he knows me for who I am," said Madison, who stars in the Las Vegas show PEEPSHOW. "I can say whatever in front of him and he's cool with it."
Her friends have already given her their seal of approval, as well, Madison said. "I love that Jack has a sense of humor and I can just be myself around him," she added. "I don't need to be like Miss Priss or Betty Crocker. I feel like every guy that I dated before him expected that."