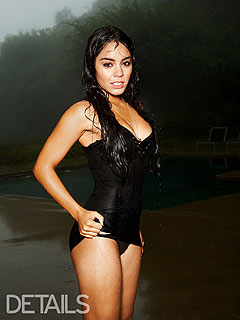 They broke up late last year, but were caught kissing in January. So, what's the story with
Vanessa Hudgens
and
Zac Efron
?
To hear Hudgens tell it, they're trying to work it out themselves.
"We're still friends," the actress, 22, tells Details in its March issue. But she adds: "Who knows what the future will bring. We're figuring things out."
That's as much as she will say on the matter. But if Hudgens harbors any lingering feelings for her old flame, the Disney darling seems intent on ditching her own squeaky-clean image once and for all.
As she talks about filming the sequel to Journey to the Center of the Earth in Hawaii recently, Hudgens focuses on how the makeup people worked hard to make her chest glisten.
"Throughout this whole movie we're trudging through the jungle. So, of course, we're sweating. I can't tell you how much time is spent putting oil on my chest," she says. "And Evian. Spraying Evian bottles on my chest and my arms and my forehead, but mostly my chest. Just to look like I'm sweating."
She adds: "But your boobs don't really sweat, cleavage doesn't sweat. So it's kind of funny."
Her costar, Michael Caine, has offered to help administer the oil – something Hudgens laughs about and says she doesn't mind.
"Not only is he uh-mazingly, stupidly talented, but he still kind of hits on me. All the time," she says. "If it was anybody else, I'd be like, 'Who the hell do you think you are?' But because it's Michael Caine, I'm like, 'Sock it to me more, baby, come on!' "